Good news if your Halloween costume plans were to dress as:
a) an artichoke
b) a crocodile hunter
c) an actual crocodile
d) an acorn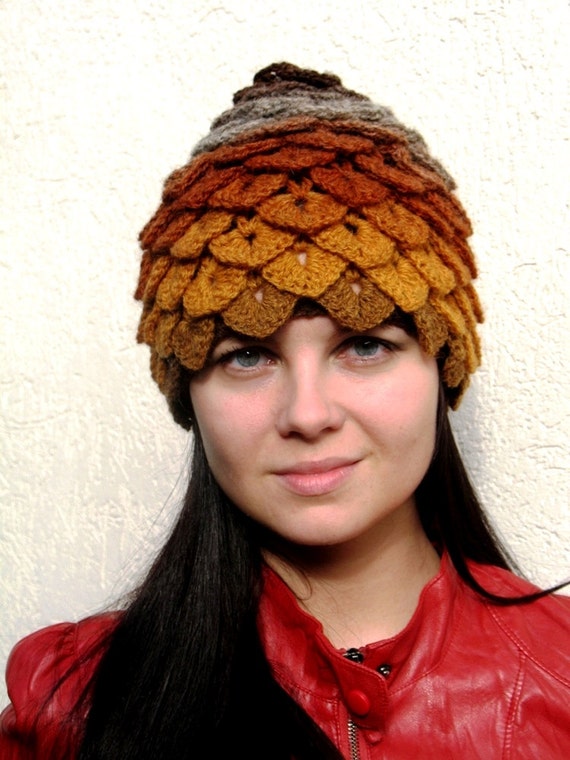 Because today's technique is the crocheted Crocodile Stitch!  Here's a great tutorial, plus pictures, from Rachel Lendyak-Peters, of crochetspot.com.  Thanks!
---
Begin with a chain with the number of stitches a multiple of 6. (You may find that in some patterns this will be a different number – like a multiple of three.) But by working in multiples of 6, you'll have the right number of scales in the alternating rows to make a nice, straight edge.
After your chain has reach the desired length, chain 4 more.
Then double crochet into the forth chain from your hook.
You've just formed the first post. Next you will chain 2, skip 2 stitches, and then make 2 double crochets into the next stitch.
Repeat this pattern: chain 2, skip 2, 2 double crochets into the next stitch, until you've finished the row.
Fabulous! You've completed the first foundation row. I'll refer to each set of 2 double crochets as a post. From this point, you will be doing a row of scales, foundation row, scales, foundation, etc.
Turn your work and chain three.
You will be double crocheting down one side of the post and up the other to form the scale. You will need to feed your hook under the first double crochet and up through the middle between the double crochet posts.
Make 4 double crochets down the first post (the first chain of 3 counts as a double crochet, so essentially you have 5 double crochets). Then chain 1.
Again coming under the second double crochet towards the middle, you're going to make 5 double crochets coming up the second post.
Chain 1 at the top and you've completed your first scale!
Skip the next post and repeat the 5 double crochets down first post, chain 1, 5 double crochets up second post, chan 1. Skip the next post, repeat, and so on until the end of the row.
Now you're set to make the next foundation row. Turn your work, chain 3 and then double crochet into the space between the 2 double crochets of the previous row.
Chain 2 and make 2 double crochets into the top of the next post, catching the chain 1 that you made between the scales.
Continue the chain 2, 2 double crochets pattern across the row.
Turn your work. Chain 1. Skip the first post and begin the scale in the next post. 5 double crochets down, chain 1, 5 double crochets up, chain 1; Skip post and repeat.
When you reach the end of the row, slip stitch into the middle of the last post.
Turn your work. Chain 3 and begin the next scale exactly like you did on the first scale row. Keep repeating this pattern.